You can have coffee in your cake, in your gelato, and coffee designs in your art deco mug, but have you ever thought about coffee on your walls? Artists around the world have begun dipping their brushes in coffee and covering their canvases with beautiful masterpieces.
Coffee painting is a beautiful art form that utilizes a common household item – Coffee.
It is not a new art form by any means, but recently, it has been sweeping the globe and has become increasingly popular. Coffee paintings smell great, are aesthetically pleasing to look at, and it is a great medium for any artist who is looking to try new things.
If you are intrigued by this branch of coffee culture and want to give it a try, it is simple and easy to do at home – even beginners can do it!

Here's a Youtube video that will show you how it is done.
Coffee painting is simply created by adding coffee (usually instant) to water and varying the strength to get different colors and tones. Some people even boil the coffee to get the darkest colors possible. From that point on, all you need is a bit of talent and some watercolor paper to create your own coffee-based works of art.
Coffee Painting for Beginners
New to the world of coffee painting? Here are some tips and guidelines for beginners.
Basic Materials
Here are the basic materials you need for a coffee painting:
Instant coffee
Water
Watercolor paper
A set of brushes
The color palette for mixing
Scotch tape
Pencil
Eraser
Step-by-Step Guide for Beginners
Once you've got your basic materials, you can get started. Here's a step-by-step guide to help you create your own coffee-based works of art.
Arrange your workspace

Organize your materials in your workspace. Prepare a variety of brushes varying from the class flat brush that you're going to use to cover large surfaces to delicate slim, pointy brushes for precise details. Also, prepare a pencil and eraser so you can sketch your design at the beginning. Use scotch tape to secure your watercolor paper to prevent it from wrinkling.

Bonus Tip: Make colors in different cups. Drop a small amount of instant coffee powder into different cups. You can use instant coffee to create different colors and tones – simply add more or less water until you reach the optimum medium.

Sketch

Draw whatever you want! You can draw something realistic, abstract, landscape, portrait – just about anything! The best thing about coffee painting is that it is monochromatic – this means that you'll only be working with one color and take advantage of its many different shades.

Bonus Tip: Think about what you want to paint. It's very useful to lightly sketch your design onto the surface that you are going to paint on.

Start with a Light Shade

Lightly wet your brush with the light coffee solution. You can paint your entire sketch with the light coffee solution, or only paint parts that need a lighter shade. Let your lightly shaded parts dry first before adding a darker shade.

Bonus Tip: Add paint when the first layer is completely dry. If you start to paint on top of a wet layer, the colors will mix and swirl in a way that's very hard to control. If your colors do start to bleed, stop painting immediately and let them dry. Then, paint over the blended area with your desired color.

Paint with a Dark Shade

After the first layer of light coffee shade dries, it's time to paint with a darker coffee shade. You can use the darker coffee shade to create details, outline your drawing, or emphasize certain parts of your sketch. Once you get used to it, you'll know how and when to add the light coffee solution and the dark coffee solution.

Bonus Tip: Add details using a small brush. Note that water easily dilutes the coffee paint which leaves it lighter wherever applied. So, lighten some small areas. After adding details to your design, go back and refine your piece. Correct any mistakes and add any finishing touches.

Let It Dry and Frame It

If your final piece is something that you're really proud of, consider framing your coffee painting behind glass to protect it from aging and weathering. However, before you frame it, make sure to let it dry first! Dry it for at least a day before securing it with a glass frame.

Bonus Tip: To preserve your coffee painting effectively, make sure that your painting has a considerable distance from the glass. You can do this by adding some matting around your painting before framing it. There are frame shops that can customize the frame and matting for you.
Coffee Painting Well-Known Artists
These amazing artists are creating beautiful masterpieces out of coffee.
Michael Aaron Williams
Sculptor, street artist, and in recent years, coffee artist, Michael Aaron Williams create unique works of art using ink and coffee on antique Appalachian ledger paper. His works have appeared in galleries across Europe and the United States.
(source: https://www.instagram.com/michael_aaron_williams/)
Maria A. Aristidou
Cake designer, illustrator, and commercial artist Maria A. Aristidou uses coffee, and sometimes watercolors, to create attractive images. Aristidou created her first coffee-based work of art by accident, but she says that coffee painting has grown on her. She takes her inspiration from her beloved pop culture characters.
(source: https://www.instagram.com/ma_aris/?hl=en)
The Coffee Artists
Husband-and-wife creative team, Andrew Saur and Angel Sarkela-Saur make up The Coffee Artists. They have been creating beautiful works of art with 100% pure coffee for over a decade.
(source: https://www.instagram.com/coffeeart/)
Coffee Painting Ideas
Looking for some coffee painting ideas and inspiration? Below, we share some beautiful coffee paintings to stir up your creative juices.
Simple Coffee Painting Designs
Here is some simple coffee painting designs that you can try out.
(source: https://www.rapidresizer.com/home/2019/1/2/how-to-paint-with-coffee)
(source: https://www.deviantart.com/alexandradart/art/Winter-coffee-painting-511894454)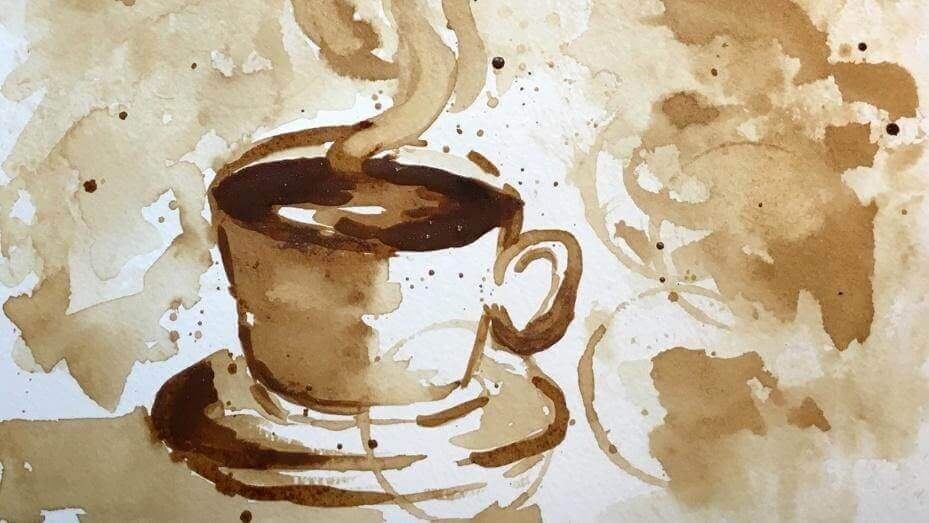 (source: https://www.skillshare.com/classes/Easy-Instant-Coffee-Painting-Fun-Techniques-Mini-Illustrations/54511951)
Coffee Painting Landscapes
Below are some examples of coffee-painting landscapes to inspire you.
(source: https://fineartamerica.com/featured/morning-mountain-lake-original-coffee-painting-georgeta-blanaru.html)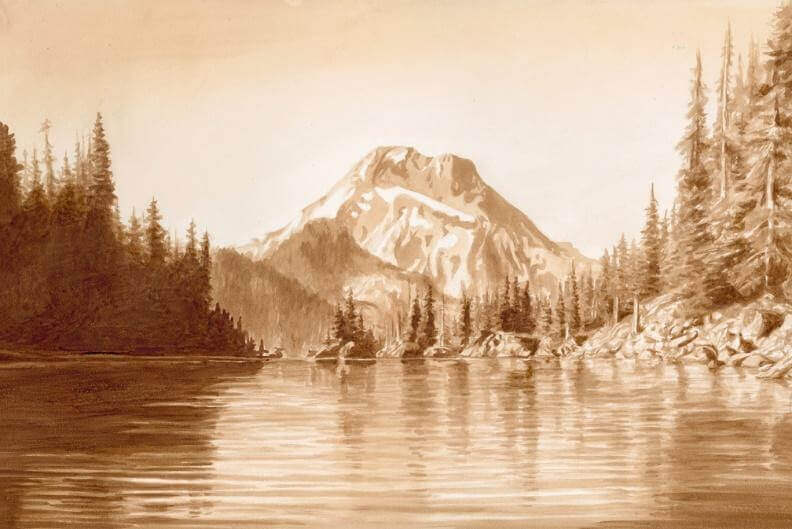 (source: http://www.karenelandart.com/coffee-paintings.html)
(source: https://fineartamerica.com/featured/under-moonlight-original-coffee-painting-georgeta-blanaru.html)
The Bottom Line
With coffee, some basic painting materials, and a little creativity, you can create your very own coffee painting masterpieces!
We hope this step-by-step guide and coffee painting examples are able to help you on your coffee painting journey.
Good luck!