How Many Calories Are There in Coffee Drinks?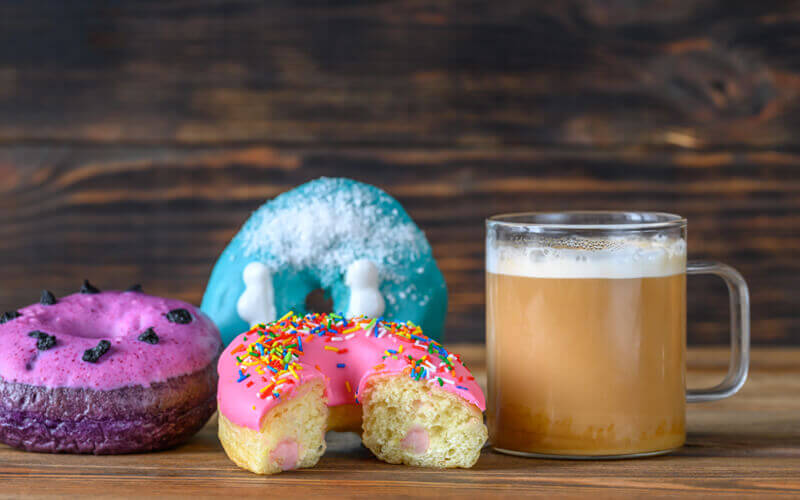 It can give you an energy boost, help you live longer[1], reduce the risk of certain diseases like type 2 diabetes and Alzheimer's Disease, improve cognitive performance – oh, and it tastes really good. With its numerous health benefits and almost addictive taste, it's no wonder why coffee is one of the most widely consumed beverages in the world. 
The only reason why health-conscious people have to be wary of their daily brew is the potential for a high number of calories to sneak into their cup of coffee. If you take your coffee with milk, artificial sweeteners, sugar, or drink multiple cups of coffee in a day, you could be sabotaging your efforts to lose or maintain your weight. In this article, we review how many calories are in common coffee drinks. Plus, we offer some tips on how you can enjoy coffee without the unwanted extra calories.
Calories in Coffee
Coffee is made by brewing coffee beans and it mostly contains water; therefore, it hardly contains any calories. However, not all drinks made with coffee are low in calories. The table below outlines the estimated number of calories in different coffee drinks. 
Popular Types of Coffee

Fat(g)

Carbs(g)

Prot(g)

Calories

Regular Coffee

0.04

0.07

0.21

2

0.05

0.09

0.28

2

0.05

0.09

0.28

2

0.07

0.14

0.43

4

0.09

0.19

0.57

5




Coffee with Cream

1.47

2.91

0.39

26

1.97

3.90

0.52

35




Coffee with Cream and Sugar

1.42

9.14

0.38

50

1.90

12.24

0.50

67




Coffee with Milk

0.15

0.84

0.33

6

0.20

1.13

0.44

8





Coffee with Milk and Sugar

0.14

7.14

0.31

30

0.19

9.56

0.42

41




Coffee with Sugar

0.01

7.12

0.19

29

0.01

9.54

0.25

39




Caffe Latte

2.75

6.18

4.41

67

4.13

9.27

6.61

101

5.51

12.36

8.81

135

6.55

14.70

10.48

160




Cafe Mocha

4.57

33.49

5.47

197

6.86

50.30

8.21

296

9.14

66.97

10.94

394

10.87

79.65

13.01

468




Other Common Types of Coffee (1 cup serving)

–

0.68

0.20

4

0.32

–

0.21

4

0.05

–

0.28

2

–

–

0.24

–
Popular Brands of Coffee

Fat(g)

Carbs(g)

Prot(g)

Calories

Starbucks (16 fl oz Grande size)

–

19.00

13.00

130

8.00

41.00

13.00

260

–

12.00

8.00

80

1.00

29.00

6.00

140

4.50

23.00

9.00

170

–

44.00

–

200

2.00

47.00

16.00

250




Dunkin' Donuts (10 fl oz size)

–

15.00

1.00

60

1.00

4.00

2.00

35

1.00

16.00

2.00

80

6.00

3.00

1.00

70

6.00

15.00

1.00

120

–

4.00

2.00

25

–

16.00

2.00

70
(source: https://www.fatsecret.com/calories-nutrition/food/coffee)
While plain, black coffee contains little to no calories, coffee with sugar, dairy products, and other flavorings is much higher in calories. 
Enjoy Coffee Without the Unwanted Calories
Worried about your calorie intake but don't want to stop drinking coffee altogether? Here are some tips to enjoy coffee without the unwanted extra calories. 
Tip #1: Drink your coffee black.
Black coffee, including espresso, has less than 10 calories per 8oz. cup. So, if you want to cut calories and keep your coffee as healthy as possible, consider drinking your coffee black without any added ingredients. Black coffee can be bitter, but eventually your taste buds will adapt to its bold flavor.  
Tip #2: Use almond milk. 
If you like milky coffees like cappuccinos, flat whites, and lattes, the type of milk that you drink has a significant impact on its overall caloric content. For instance, one cup of regular milk has about 150 calories, one cup of skim milk has about 90 calories, and one cup of almond milk only has around 30 calories. Assuming you aren't allergic to nuts, almond milk is the healthiest milk choice to mix with your cup of coffee. 
Tip #3: Ditch the sugar and artificial sweeteners.
The average small latte – around 220ml of regular milk – with no added sugar has about 120 calories which is the ideal amount for a snack. However, if you take it with sugar, you're adding about 16 extra calories per teaspoon. Artificial sweeteners aren't much better – research has shown that while they don't technically contain calories, these sweeteners promote metabolic dysfunction. 
Metabolic dysfunction means that the workings of your cells change to produce more fat. Another study indicates that artificial sweeteners could leave you feeling hungrier due to its effect on your sweet taste receptors and gut bacteria, leading to potential weight gain. Bonus Tip: Instead of using sugar or artificial sweeteners, why not use cinnamon or flavored extracts instead? Cinnamon adds a burst of sweet flavor to desserts, which is why it's commonly used as a natural sweetener in many recipes. 
When you add it to coffee, it also adds a natural burst of sweetness for a delicious cup of coffee without the calories of sugar. You can also add a flavored extract (i.e. vanilla extract) to your black coffee to give it some flavor, but without the added sugar and calories. 
Tip #4: Look for a sugar alternative. 
Using a sugar alternative, such as Stevia, to your black coffee adds some sweetness and flavor to your cup of joe without having to add spoonfuls of refined sugar which can add a lot of calories. There are various sugar alternatives available – each with their own unique taste and benefits – so try different types until you find one that suits your tastes. 
Tip #5: Downsize from a large to a regular (or small) cup.
Typically, a large latte contains 100 more calories than a regular size, so switching to a smaller cup will save you a lot of unwanted extra calories. Large coffee cups equate to a small meal worth of calories and are usually the reason why people can't lose weight, particularly when drinking two (or more) large cups each day and then sitting for 10-12 hours straight. 
It doesn't mean that you have to make do with less of that precious caffeine – just order your small coffee as a 'strong' or a double-shot. Drinking a couple of mini coffee throughout the day is another way to get all the goodness of caffeine without the calories. For instance, a macchiato only has around 13-18 calories, while a piccolo latte only has around 45 calories. 
The Bottom Line
Plain coffee contains very little calories; however, several popular coffee drinks contain high calorie additions like milk, sugar, and artificial sweeteners. While consuming these types of coffee drinks in moderation isn't a concern, drinking too much of them may result in you consuming too many calories. If you're curious about how many calories are in your favorite coffee drinks, refer to the table in this article.
FREQUENTLY ASKED QUESTIONS